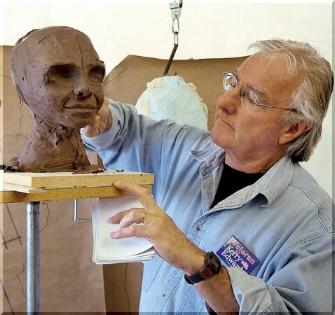 "Working in clay and wax, then having my art cast in bronze, I attempt to capture the spirit and personality of the subject," Richard says. "My sculptures are sensitive, personal and from the heart."

The phrase, "I attempt" comes from his gentleness and humility, for all his work achieves his goal and more. Richard Arnold creates soul in bronze. He forms clay into heart. He captures a depth in his work that marks him as a master. Of his major works, his Mobile, Alabama Vietnam veteran, called "Remembering," illustrates the power of his gift. Richard, a member of the Vietnam Vets of America, created this pensive, life-sized sculpture as a reminder of the sacrifices of those who fought in the Vietnam War. Clad in a baseball cap, jeans, jungle boots and a military jacket, the former soldier wears a POW-MIA bracelet and clenches the dog tag of a friend who wasn't fortunate enough to return home. He stands alone in front of the wall of names, no platform or base to set him apart from the flesh-and-blood viewers. In the soft twilight of creeping night some viewers have mistaken the sculpture for a real man, afraid to go closer, afraid to disturb his remembering. This speaks volumes of Richard's power to capture spirit.

The son of a Colorado coal miner and a mountain town school teacher, Richard Arnold was born in 1942 in San Diego, California, where the sea, surf, sun, and wind got into his bones and never left. Although he attended the University of Hawaii, he didn't graduate. His reason: "Too many girls." He has lived in many parts of the United States, eventually moving to Colorado, and has enjoyed more than 20 years as a general contractor and project manager, and 10 years as an aviation flight instructor, charter pilot and airport manager. At 50 he came face to face with his dream to be an artist, and since has pursued the gift.

As a sculptor, Richard's art and soul is inspired by Rodin, Bruno Lucchesi, his mother, and his wife. He studied sculpting with noted artists in Scottsdale Arizona; Loveland and Aspen, Colorado; and in Fairhope, Alabama, at the Eastern Shore Art Center. With his extensive background, Richard has gained the skills to design, coordinate and construct projects, enabling him to work on large commissions and to work with community members and leaders to envision public sculpture that captures the unique character of local culture. Richard imbues each piece with the humanity of the place where it becomes a heart-work for the townspeople.

Richard has lived in the mountain town of Telluride, Colorado since 1973, becoming the manager of the local airport in 1989. As an artist, he shares his gifts with Telluride students, both young and old, through the classes he teaches at the Ah Haa School. He offers a six-week course to Middle and High School students in the fall, where he introduces sculpture materials and techniques. Students gain hands-on experience using plastilene or water-based clay on an armature, and have the opportunity to work with live models. Richard also offers an adult introductory course in portrait sculpture, held at various times throughout the year.

A dynamic part of the community, Richard teaches skiing in the winter at Telluride Ski & Snowboard School just because he loves the "wonderful, incredible family of people" and the place. Like the sea and surf of the Pacific, the deep powder of the San Juans has gotten into his bones and he finds his tranquility among the quiet basins of the snow-draped peaks. Summertime takes him to places where eagles fly, since he is a pilot, or to silver streams where he enjoys fly-fishing with his wife.

In addition to the Mobile, Alabama, Vietnam Veterans' Memorial, Richard has been commissioned to create several public works, including, "Welcome Home," a life-size sculpture of three figures, which is part of the veterans' memorial for the town of Fruita, Colorado. This work is currently in progress and is scheduled to be dedicated in 2006. "Welcome Home" illustrates the moment a Vietnam vet returns to his welcoming parents. The title derives, Richard says, because, due to the protests of the war, "We were not welcomed home."

Telluride commissioned him to create its first public work as well. This is the life-size bronze "Sofia," who is eternally waiting at the Telluride High School bus stop. Richard has also been commissioned by the Aspen township to do a bas-relief bronze of the famous blacksmith, Francis Whittiker, and has been chosen to create the life-size Telluride Miners' Memorial.

Richard was one of four featured sculptors in the January 2009 issue of ForbesLife MountainTime Magazine's article on bronze sculptures.

— MaryJoy Martin, author and columnist for the San Juan Horseshoe